Come and discover our Bienvenue collection on the rooftop of the most expensive villa in the United States. From your EGO Paris armchair, admire the skyline of Los Angeles and the excessiveness of places thought by Burce Makowsky.
The most expensive villa in the United States
In 2012, Bruce Makowsky, magnate of the handbag industry, has invested in a mansion of 3850 square meters located at 924 Bel Air Road in Los Angeles. The mansion became the most expensive property of the United States. This impressive villa is decorated with marble and finely cut stones. It offers a 270 degree view of the Los Angles skyline, the Pacific Ocean and the snow-capped mountains.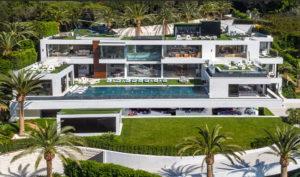 The temple of excess
The layout of this villa had required 4 years of work to 250 employees. It consists of two main suites, 10 VIP suites, 21 bathrooms, three kitchens, and five bars. A 1579 square meter play area, an infinity pool with a big screen, a 40 seats cinema, and four bowling alleys enable you to have fun. A spa and a gym are also available.
The house is decorated with a hundred works of art and sold with a collection of 12 cars which are worth more than 30 million dollars.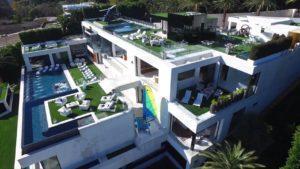 An exceptional rooftop
The rooftop terrace is equipped with a helipad and offers breathtaking views over Los Angles. Our armchairs Welcome and sunloungers Première brighten this rooftop up.
With its generous cushions set in their aluminum frame, the Bienvenue collection invites you to comfort and conviviality. The aluminum frame is available in about 40 colors. The cushions are available in 3 duos of Sunbrella fabrics and 2 duos of marine vinyls. The coffee table with its rotative tabletop (diameter 130 cm) is available in resin finishing (2 colors) or in white Corian®.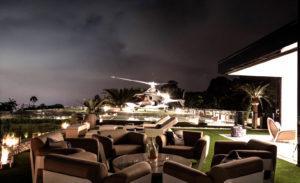 924 Bel Air Road de Bruce Makowsky
Collection Bienvenue design Agence Auvray