Enjoy the Vatel Hotel
The Vatel hotel, a magnificent 4-star hotel, welcomes you to Nîmes with its sumptuous spa. The hotel is associated with the Vatel School, offering internationally renowned courses that have won several Worldwide Hospitality Awards, in the categories "Best Training", "Best Educational Innovation" and "Best Professional Success".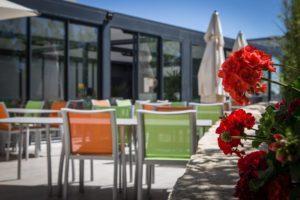 Sit comfortably on EGO Paris'chairs
The two hotel's restaurants offer refined and unique cuisine as well as outstanding views of the area. EGO Paris suggest you to sit comfortably on the chairs of the PREMIERE collection, design Thomas Sauvage, and enjoy delicious dishes on its custom-made tables in rustic style.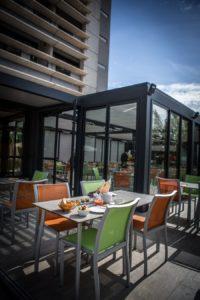 A feeling of freedom on the terrace
In summer, the terrace enables you to enjoy a pleasant and relaxing atmosphere. The KAMA lounge area from Ego Paris, design Benjamin Ferriol, invites you to enjoy the moment. The KAMA sofa cushions can be placed in nine different positions for gentle moments of relaxation. KAMA meridians and armchairs are in perfect harmony in this privileged space.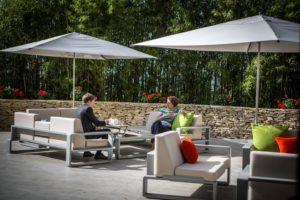 With its trays that rise, the Quattro table gives you the opportunity to take a break with confidence around a snack. Modularity is therefore a must for this collection with radical and refined lines.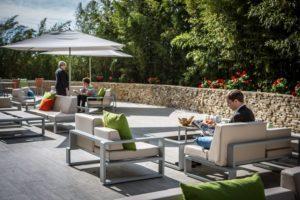 The hotel's contemporary style rooms are comfortable and spacious. After a good night's sleep, you will be able to start the day with a little exercise in the fitness room. After the effort, relaxation! Enjoy the jacuzzi and heated indoor pool for letting go and forget your worries of everyday life.
Well located, the Vatel hotel enables you to reach easily all the tourist points of the city and discover its wealth. The Magne Tower, the Arena, the Maison Carrée, or the Temple of Diane will help you appreciate your stay in the beautiful city of Nîmes.
To discover all the design collections of EGO Paris, browse the website without further delay!